Kitka means "bouquet" in Bulgarian and Macedonian
Kitka is an American women's vocal arts ensemble inspired by traditional songs and vocal techniques from Eastern Europe. Dedicated to developing new audiences for music rooted in Balkan, Slavic, and Caucasian women's vocal traditions, Kitka also strives to expand the boundaries of folk song as a living and evolving expressive art form. Kitka's activities include an Oakland-based home series of concerts and vocal workshops, regional, national, and international touring, programs in the schools, recording, publication, and broadcast projects, master artist residencies, commissioning, original works, community service, and adventuresome collaborations.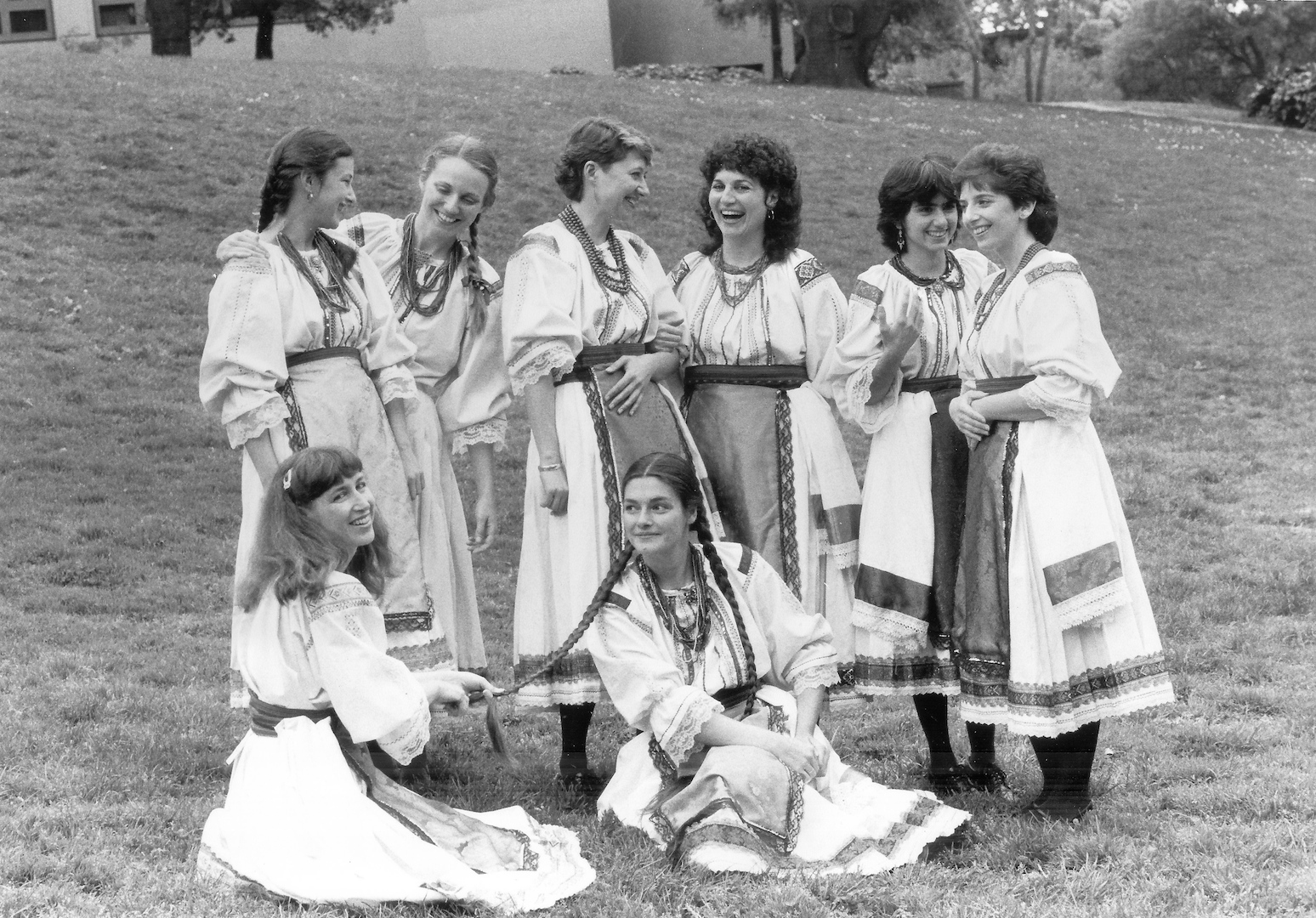 celebrating its 40th season
Founded in 1979, Kitka began as a grassroots group of amateur singers from diverse backgrounds who met regularly to share their passion for the stunning dissonances, asymmetric rhythms, intricate ornamentation, lush harmonies, and resonant strength of Eastern European women's vocal music.
Direction
Under the direction of Bon Singer from 1981 to 1996, Kitka blossomed into a refined professional ensemble earning international renown for its artistry, versatility, and mastery of the demanding techniques of traditional and contemporary Balkan, Slavic, and Caucasian vocal styling.
Under the co-direction of Shira Cion, Juliana Graffagna, and Janet Kutulas from 1997 to 2010, Kitka grew to earn recognition from the National Endowment for the Arts, Chorus America, and the American Choral Directors' Association as one of this country's premier touring vocal ensembles.
Now functioning as a creative collective, many international musical authorities consider Kitka the foremost interpreter of Balkan and Slavic choral repertoire working in the United States.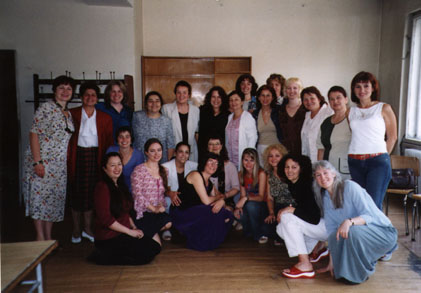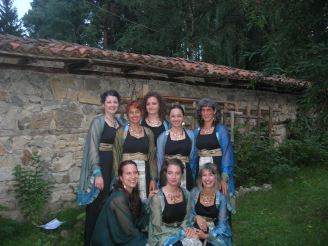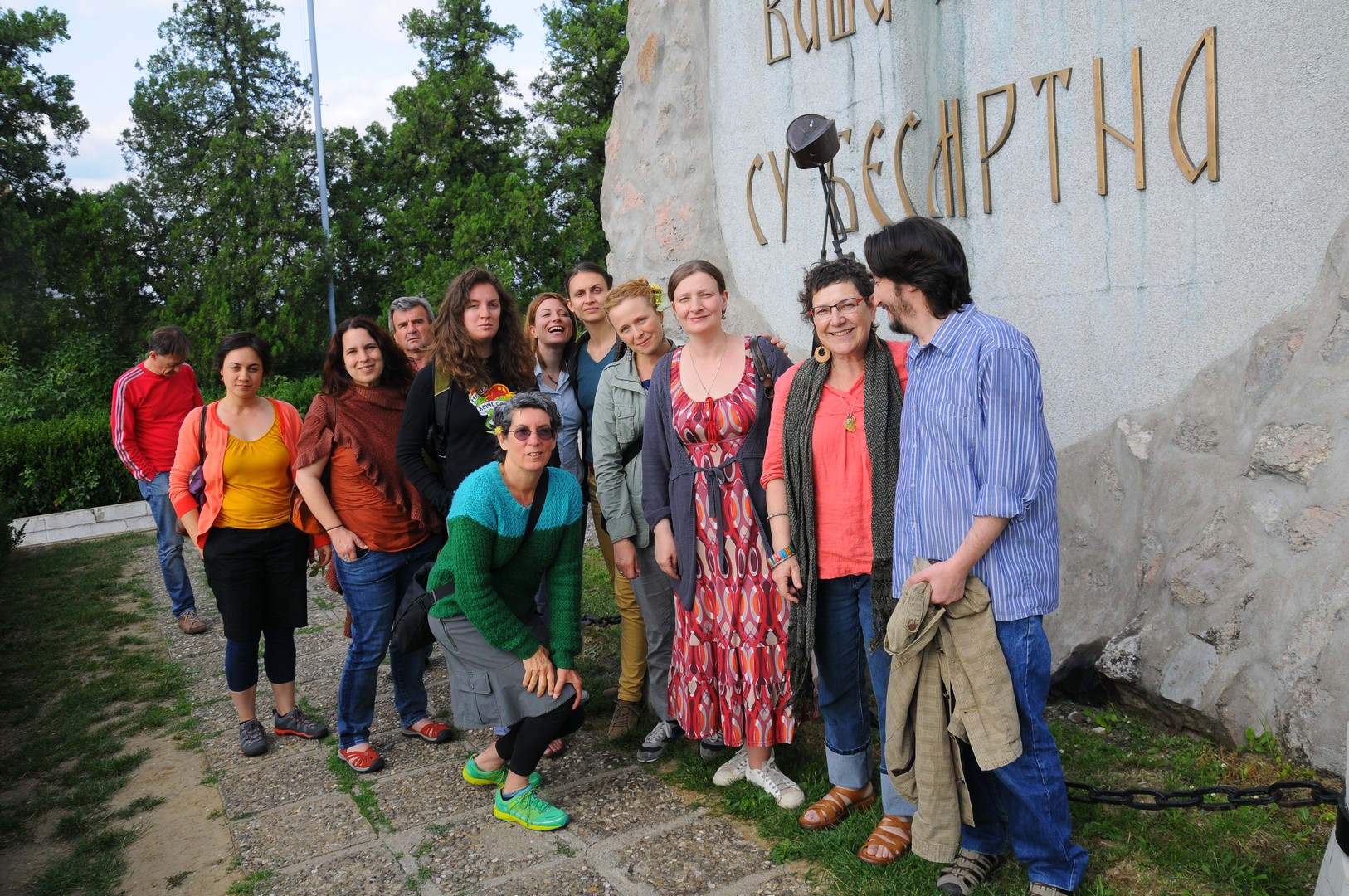 Travel & Touring
Kitka has deep ties to Eastern Europe and has traveled there frequently to perform and collect repertoire. In 2002, Kitka joined Le Mystère des Voix Bulgares as "international guests of honor" for this world-renowned choir's 50th-Anniversary Gala at the National Palace of Culture in Sofia, Bulgaria.
In 2005 and 2009, supported by the Trust for Mutual Understanding, Kitka journeyed to Ukraine and Poland for a series of performances, international artist exchange meetings, radio and television broadcasts, and research expeditions in rural villages.
In the fall of 2010 Kitka was a featured ensemble at the 5th International Symposium on Traditional Polyphony in Tbilisi, Georgia.
In 2013, Kitka toured and conducted cultural exchange projects in Serbia and Northeastern Turkey. Kitka's singers regularly conduct fieldwork in ethnic communities throughout America as well as abroad. Individual Kitka members have researched and collected songs in Bulgaria, Hungary, Macedonia, Georgia, Russia, Turkey, and Ukraine. Many of Kitka's singers are also talented composers and arrangers who create original settings of songs they have gathered in the field.
COMMISSIONS
In 2000, Kitka received major grants from the National Endowment for the Arts and the Rockefeller Foundation's MAP Fund to launch the New Folksongs Commissioning Project, which engages some of the most exciting voices in contemporary music to write new works that utilize Kitka's wide-ranging sound palette. New Folksongs commissions premiered to date include compositions by Pauline Oliveros, Chen Yi, Dan Cantrell, Marcel Khalife, Janet Kutulas, David Lang, Linda Tillery, Sara Michael, Daniel Hoffman, Raif Hyseni, Thilo Reinhardt, Elizabeth Setzer, Roy Whelden, Vladimir Zenevitch, Janika Vandervelde, and Richard Einhorn.
In 2002, Kitka began work on its most ambitious commissioning project to date: The Rusalka Cycle: Songs Between the Worlds, a new vocal-theater project directed by Ellen Sebastian Chang, with original music by Ukrainian composer and folk singer Mariana Sadovska. Weaving old Slavic mythology together with contemporary themes, The Rusalka Cycle's premiere performances took place to extraordinary public acclaim at Oakland's Malonga Casquelourd Center for the Arts in November 2005. The Rusalka Cycle was revived in San Francisco in January 2008 and subsequently toured to the Revolutions International Theatre Festival in Albuquerque, NM; Globalize: Cologne and Neue Stimmen Festivals in Germany; the Giving Voice Festival in Wroclaw, Poland; and the Kiev Mohylanka Theater Academy in Ukraine.
In February 2009, Kitka premiered Richard Einhorn's The Origin, a new oratorio co-commissioned by ARTSwego at SUNY Oswego. Commemorating the 200th anniversary of Darwin's birth, and the 150th anniversary of the publication of The Origin of Species, The Origin is scored for Kitka, a symphony orchestra and chorus with film projections by award-winning video artist Bill Morrison.
Also in 2009, Kitka premiered Dan Cantrell's Rootabaga Opera, with texts by Carl Sandburg, in collaboration with shadow puppet artists Larry Reed and Christine Marie of ShadowLight Productions at the Crucible's annual Fire Arts Festival in Oakland, CA.
In June of 2010, Kitka collaborated again with composer/music director Mariana Sadovska, and German stage director André Erlen to create Singing Through Darkness, a vocal-theater work inspired by historical and contemporary songs and stories of wartime.
In 2014, Kitka premiered and recorded Eric Banks' I will remember everything, a lyric biography of "Russia's Sappho," Sophia Parnok.
Collaborations
Kitka's unique sound and innovative sense of programming has led to dozens of other fruitful collaborations, ranging from a reconstruction of the medieval Carmina Burana pageant for CalPerformances, (Thomas Binkley, director), to work with Hollywood composers and independent filmmakers on motion picture soundtracks including Braveheart, Jacob's Ladder, and Queen of the Damned. Other collaborations of note include creating the role of the Greek Chorus/Trojan Slave Women in the American Conservatory Theater's three critically acclaimed performance runs of Hecuba (Carey Perloff, director), for which Kitka received a Drama Critics' Circle Award nomination; the creation of Women in Black, a multidisciplinary work inspired by the international Women in Black Against War movement (Thais Mazur, choreographer; Katrina Wreede, composer), for which Kitka received an "Izzie" Award nomination for Outstanding Achievement in Music/Sound/Text; and Songs from Mama's Table, a celebration of the commonalties and contrasts between Balkan, Slavic, and African American women's singing traditions with Grammy nominees Linda Tillery and The Cultural Heritage Choir.
In March 2007, Kitka (in collaboration with composer Dan Cantrell; Yiddish folk singer, multi-instrumentalist and dancer Michael Alpert; Balkan Romani multi-instrumentalist and vocalist Rumen Sali Shopov; and stage director Aaron Davidman) premiered Musical Fortunes, a new song cycle inspired by the intersection of Eastern European Jewish and Romani ("Gypsy") cultures.
In 2011, Kitka embarked on Vocal Alchemy, a new collaborative adventure with MacArthur "Genius" Award and National Medal of Arts-winning multi-disciplinary artist Meredith Monk.
Current projects include the creative development of Iron Shoes, a new folk opera featuring original music by Janet Kutulas and stage direction by Erika Chong Shuch. Iron Shoes is slated to premiere in the Fall of 2016 in San Francisco.
FeatureD media Appearances
A frequent guest on national radio shows, Kitka has been featured on nationally syndicated programs such as PRI's The World, A Prairie Home Companion, All Things Considered, On Point, The Story, West Coast Live, Performance Today, and National Geographic World Music. In recent seasons, live Kitka concerts were also broadcast widely on the CBS/Radio Canada, and on German, Serbian, Bulgarian, Georgian, and Turkish national radio and television. The live performance film Kitka and Davka in Concert: Old and New World Jewish Music has been broadcast nationally on more than 100 public television stations and has been an award-winning selection at international and Jewish film festivals from Beijing to Toronto.