For Kitka's 40th Anniversary, Kitka singer Hannah Levy created an exhibition of selected Kitka costumes, ranging from the early 1980s to the present. For this website gallery, we've included some others too!
"SARAFAN"
Designed by: Susan Mintz Becker

These simple woolen jumper dresses were based on the Russian sarafan dress shape, and were the first ever official Kitka performance costume.
Designed by: ???
BLAH BLAH BLAH BLAH BLAH
Designed by: ???
BLAH BLAH BLAH BLAH BLAH
"MILKMAID"
Designed by: Anastacia Metcalf Lundholm and Bon Brown Singer
These beloved outfits served Kitka for many years, and are loosely based on Croatian folkloric costume. Each singer personalized her own set with stitching and bead work!
"WINGS"
Designed by: Melissa Wortman
This signature look features elegant "wings" that hang from the singers' sleeves. The innovative design and shimmering blue and green color palette make this a recurring favorite. These costumes were commissioned with a grant from the East Bay Fund for Artist that was matched by a generous community of Kitka donors.
"PLACE HOLDER"
Designed by: ???
BLAH BLAH BLAH BLAH BLAH
Designed by: Melissa Wortman
This striking two-piece ensemble began when the skirts caught a Kitkat's eye in a boutique. Master costumer Melissa Wortman was then brought on board and designed the tops to match, creating a long elegant silhouette.
"SERRAHNA"
Designed by: Andrea Serrahn

This iconic look is owed to its namesake, textile artist, designer, and shop-owner Andrea Serrahn. Made from luxurious Indian silk fabrics, they remain a staple performance garment for their striking colors and universal, comfortable design. Visit her boutique on College Avenue in Oakland, or check out the website here.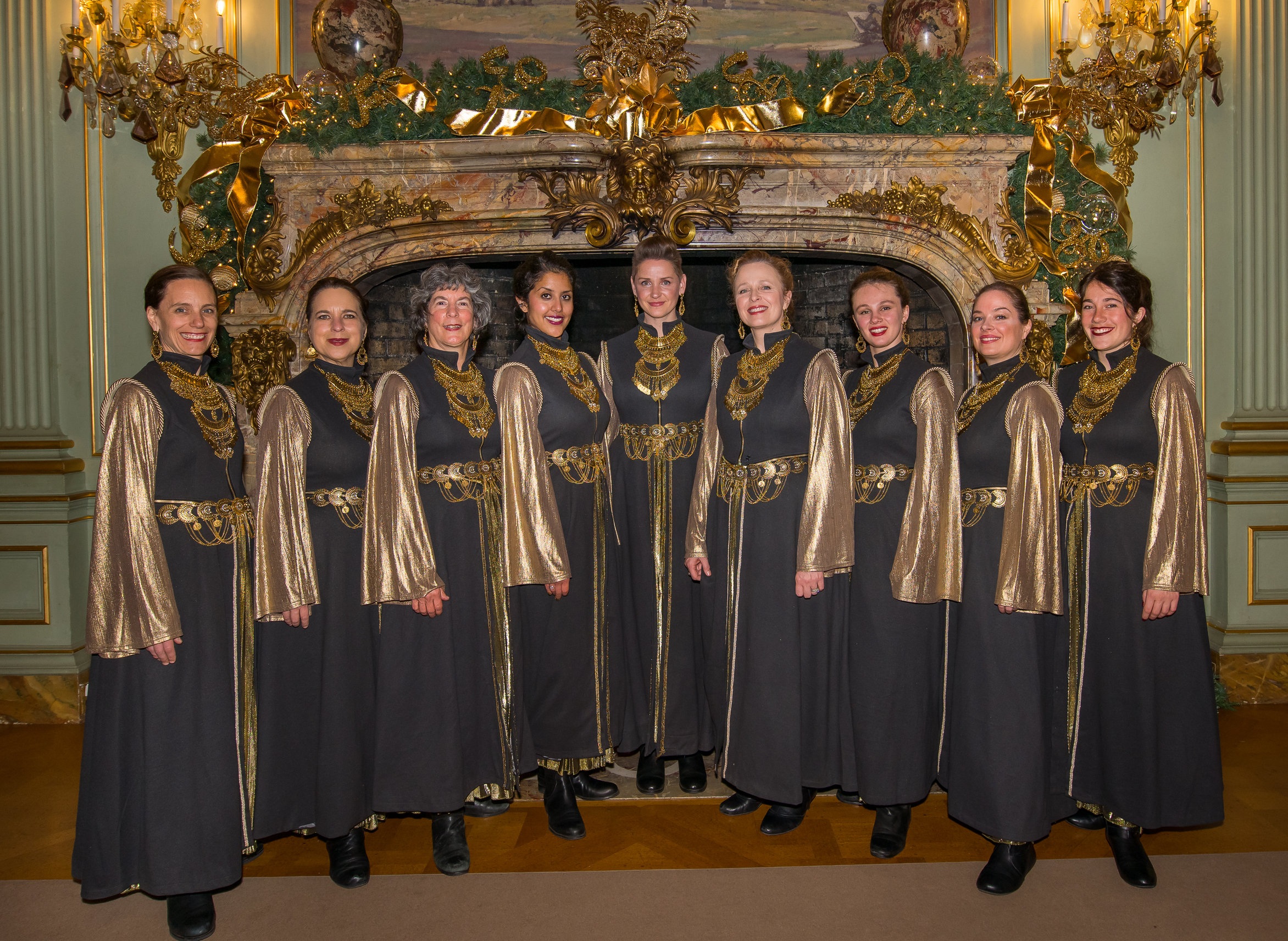 "TAMAR"
Designed by: Alina Bokovikova
(with Kelly Atkins and Shira Cion)

This look is hot off the press, having just been released in conjunction with Kitka's 2018 Wintersongs program. The slate grey overcoat is inspired by the Georgian chokha, and the name refers to the great Georgian Queen Tamar. Alina Bokovikova also designed the costumes for Iron Shoes. Learn more about Alina here.